Things to see and do on your visit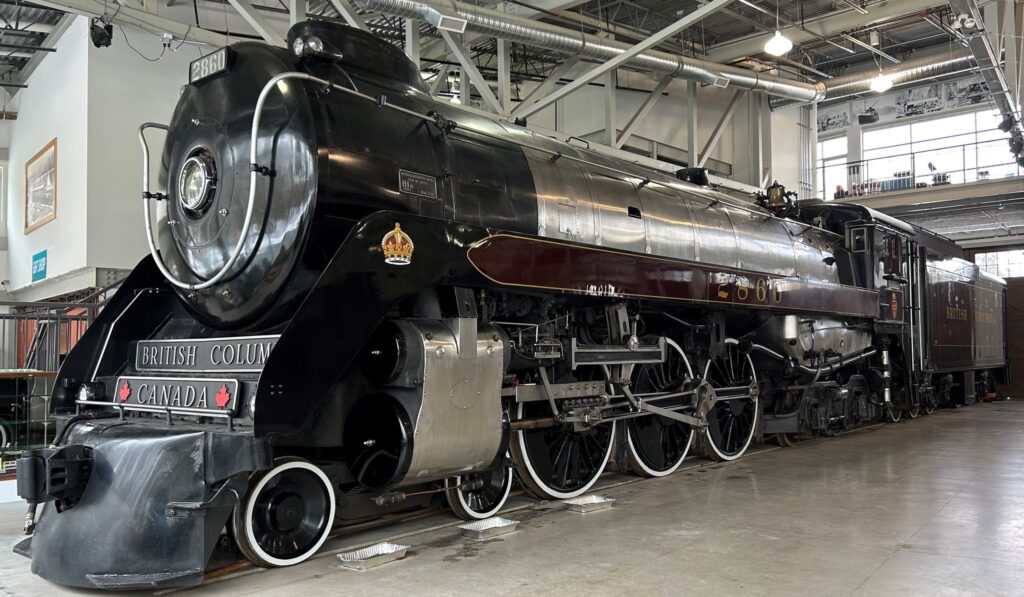 ROYAL HUDSON 2860 STEAM LOCOMOTIVE
The Crown Jewel of our collection, 2860 is one of 65 'Hudson' type 4-6-4 steam locomotives built for the CPR by Montreal Locomotive Works (MLW). This engine was finished in June, 1940.
See this magnificent locomotive inside the CN Roundhouse. Climb into the cab, ring the bell!
This series of engines was numbered 2800 to 2864, and the first was delivered in 1929. Starting with No. 2820, the Hudsons got the streamlining treatments so popular in the 1930's. No. 2850 (now at Exporail near Montreal) was assigned to haul the Royal Train during the visit to Canada by King George VI and Queen Elizabeth in 1939. The locomotive performed flawlessly and impressed the King greatly. The CPR received permission to designate the streamlined Hudsons "Royal" and eventually each locomotive was equipped with a crown fastened to their running boards.
The engine and loaded tender weigh 293,770 kgs (648,000 lbs) and has a tractive effort of 19,2004 kgs (42,250 lbs). It is capable of speeds of 144 kph (90 mph). The locomotive and tender have a total length of 27.27 m (90' 10"), and is 4.7 m (15' 10") high. The tender has a capacity of 54,600 litres (12,000 gallons) of water and 18,614 litres (4,1000 gallons) of fuel oil.
Five CPR Hudsons were saved, Nos. 2816, 2839, 2850, 2858 and 2860. Our No. 2860 was restored for a proposed Railway Museum in Vancouver. In 1974, the Province of British Columbia bought the locomotive for an excursion train. 'The Royal Hudson' ran on BC Rail track from North Vancouver to Squamish. In 2000, the province leased the engine to the district of Squamish for display and restoration at the West Coast Railway Heritage Park, now the Railway Museum of British Columbia.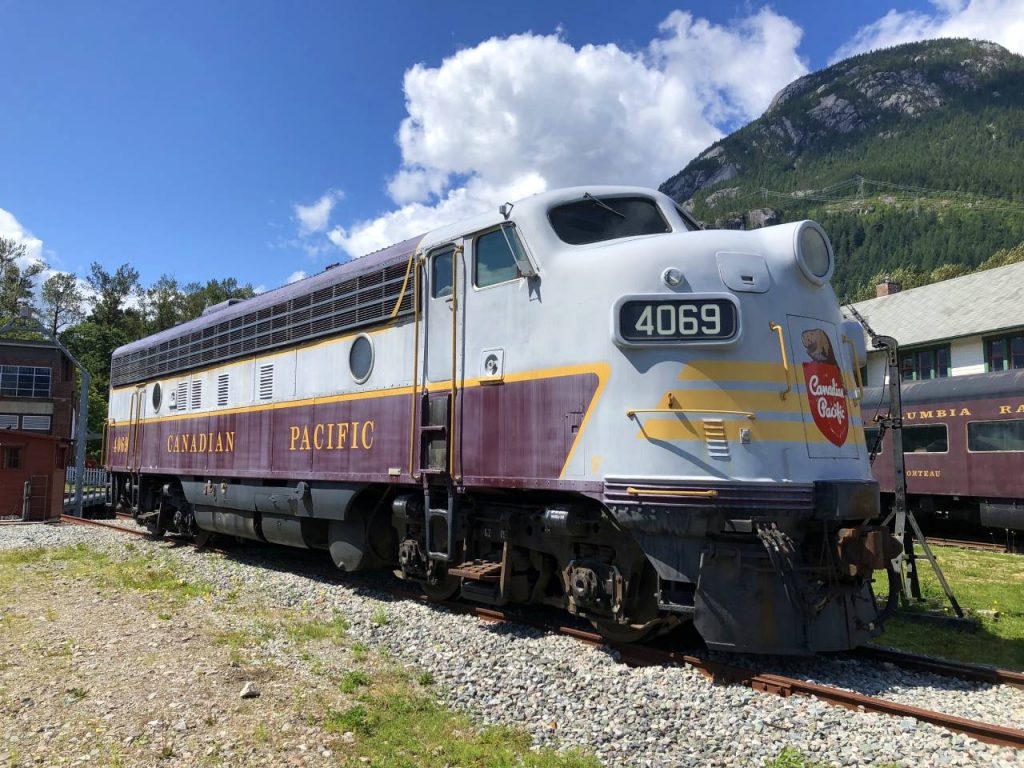 Canadian Pacific FP7A Diesel 4069
Our locomotive was built by General Motors in London, Ontario, developing 1500 HP, and delivered to the CPR on Jan. 29, 1952. Painted in classic CP maroon and gray, it's used to head up our vintage CP passenger cars. It was renumbered to 1425 by the CPR to haul the new 'Canadian' in 1955. The locomotive helped usher in a new era of train travel in Canada. The Canadian ran from Montreal to Vancouver in 71 hours, 10 minutes.  This cut 16 hours from the schedule of the steam powered 'Dominion'. CP 4069 is frequently spotted at the front of the Museum grounds for display and public access. Climb aboard and experience the view from the Engineer's seat of this classic passenger diesel.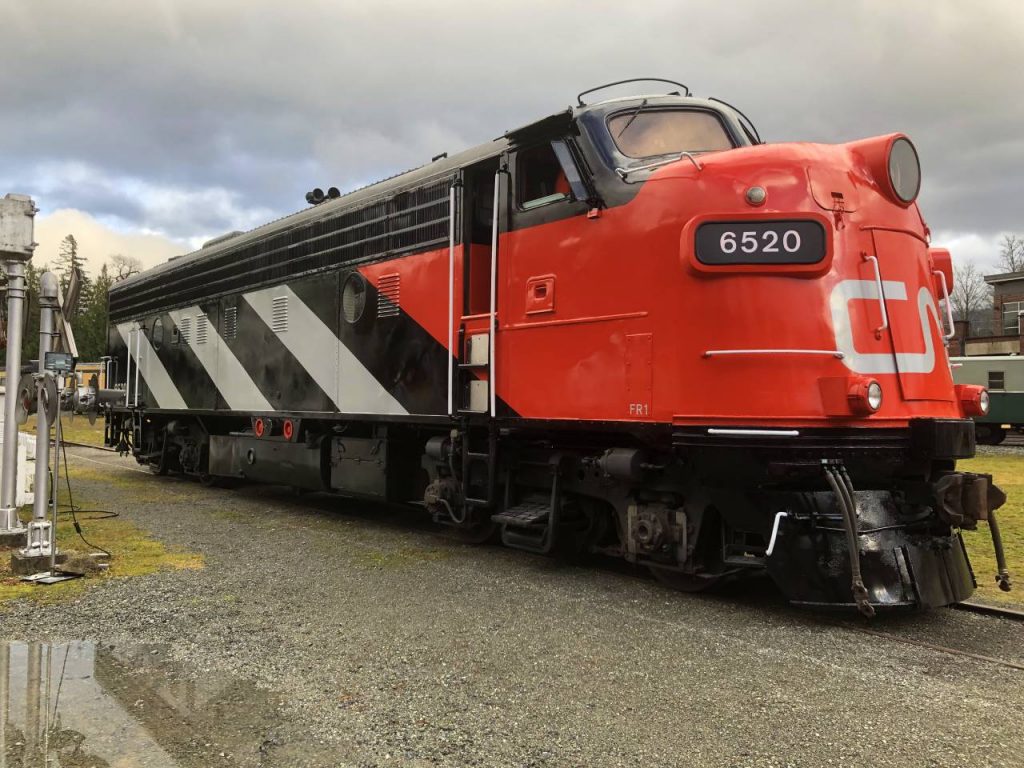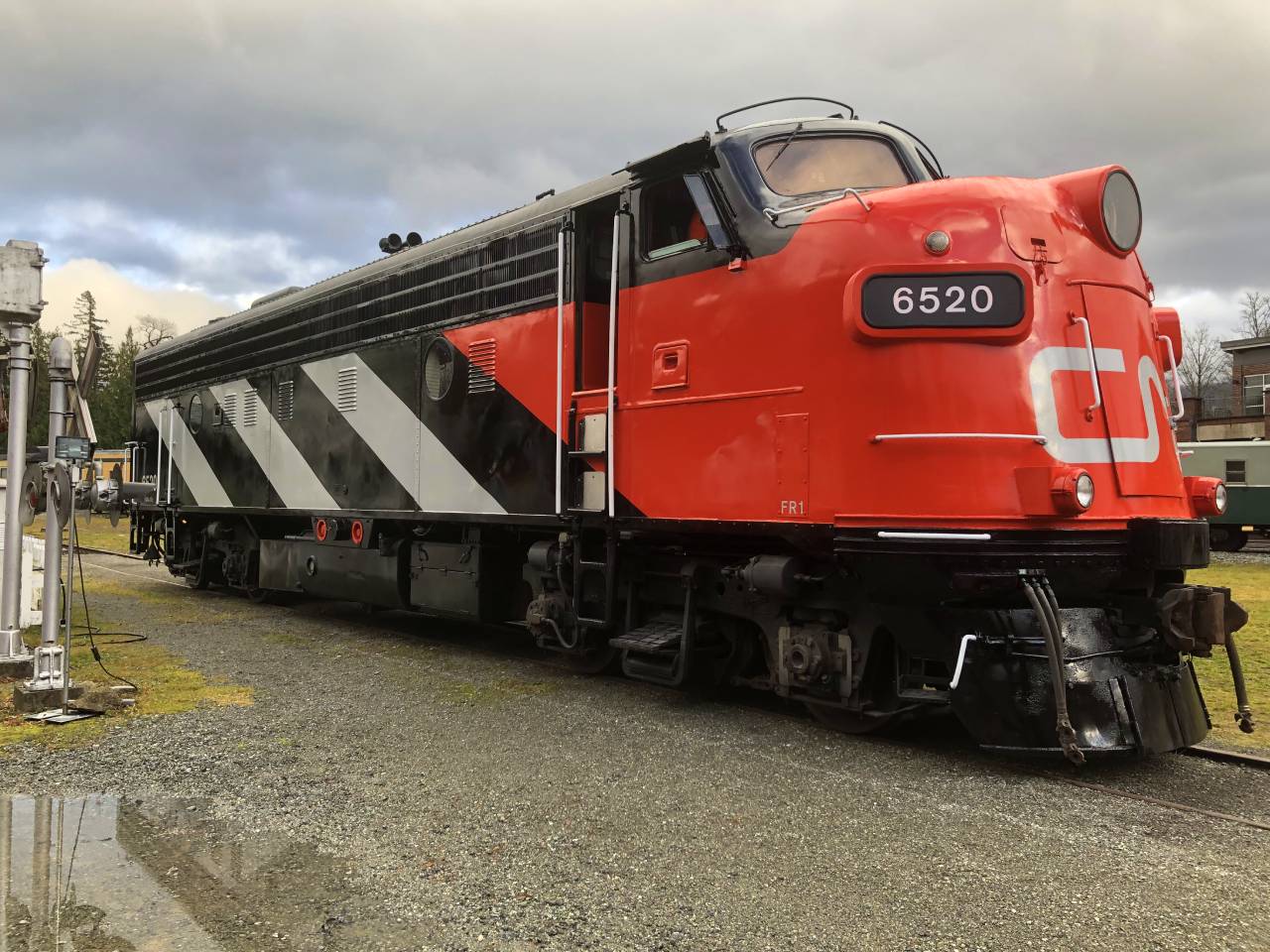 Canadian National FP9A Diesel 6520
Recently repainted in the bold and striking 1961 CN scheme that it would wear for most of its career in passenger service, CN 6520 was revealed to the public in Squamish in November 2019, after several years of restoration and upgrades. Geared for a top speed of 89mph, CN 6520 was used to pull the finest regional and transcontinental trains of its time. It finished its career painted in VIA colours until it served again in CN Green and Gold in Ontario at the Waterloo & St. Jacobs Railway. It runs very well and will be one of our prime pieces of motive power for Events Trains and other special activities.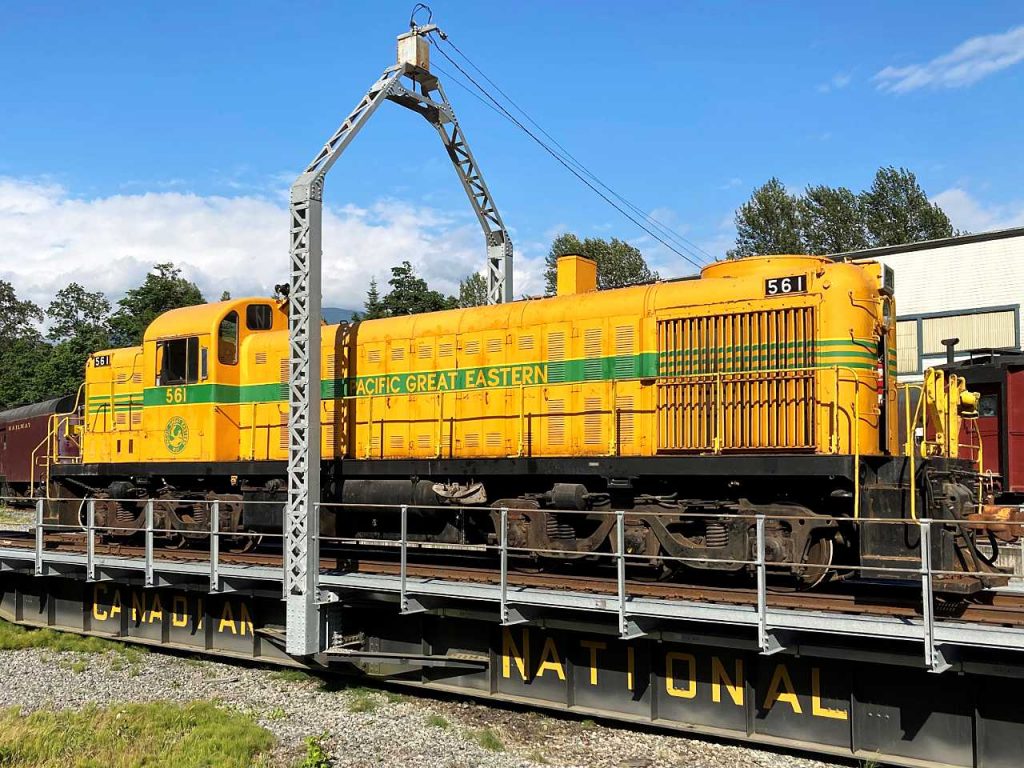 Pacific Great Eastern RS3 Diesel 561
Pacific Great Eastern 561 was built in 1951 by Montreal Locomotive Works. Putting out 1600 hp, the RS-3 is a freight workhorse, and is frequently seen in service at the park, switching trains in and out of the round house and turntable. This locomotive represents the first 'road' diesels operated by the PGE, and #561 was in service for over 35 years before being retired and acquired by the Museum.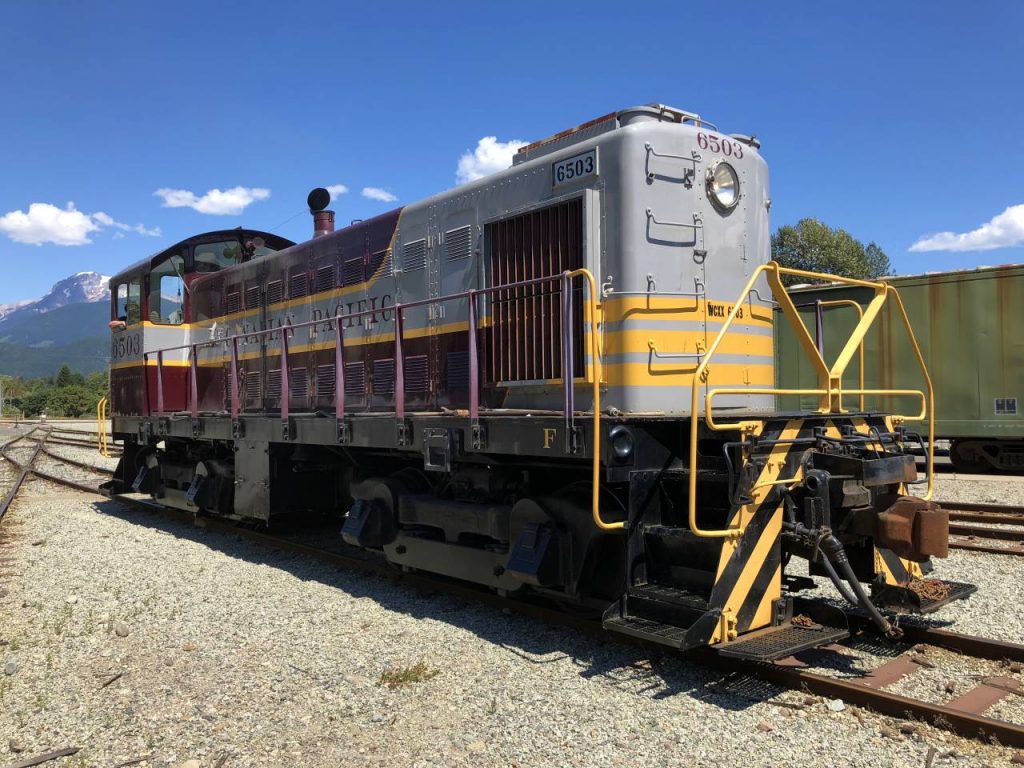 CANADIAN PACIFIC 6503 S3 SWITCHER
Our S3 was one of the first bought by Canadian Pacific to test the value of the 660 hp non-turbocharged switcher. No. 6503 was originally assigned to Winnipeg and proved to be sturdy and reliable. The engine has been modified with a buffer plate on the ends, over the coupler, in order to handle passenger cars. This locomotive served the CPR in various locations across Canada until 1983. The unit then sold to United Grain Growers terminals in Vancouver, switching grain cars until it was retired in 1987 and acquired by the WCRA.

British Columbia Business Car
Built in 1890 by Barney & Smith of Dayton, Ohio as the sleeper Sherbrooke for the Canadian Pacific Railway. In 1912 the car was rebuilt in CP Angus shops as a Business car No. 16 and used all across Canada until retired. In 1961 it was purchased from the CPR by founding members of the West Coast Railway Association (WCRA). The car was leased to the Victoria Pacific, a tourist railway operator, until 1971. By the time the car was returned to the WCRA in 1983, it had suffered serious damage. Restoration began that year and was completed  in time for it's 100th birthday, on July 30, 1990. It is estimated that 80,000 person hours and $360,000 have gone into bringing British Columbia to her present condition.
As a Business car, it would normally carry a complement of three – a Railway Executive, his assistant and a Steward. The car could, however, sleep up to 10 people in a comfort rarely equalled today. The interior is Honduran mahogany, inlaid with birch, maple and walnut finished with 12 coats of varnish, each one sanded between coats and finally French polished. All the fittings are solid brass and the car rides on 6 wheel trucks.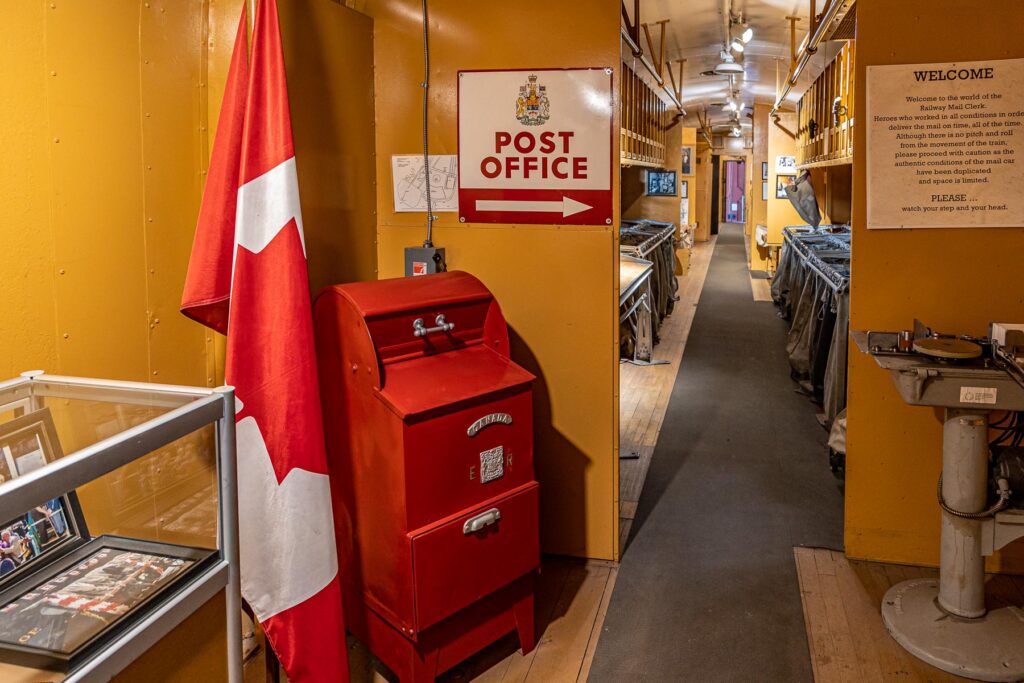 CPR BAGGAGE MAIL CAR 3704
Built in 1949, it has a 50' baggage compartment and a 30' mail compartment. BC Rail bought the car from CPR for work train service but never converted it. In 1998 the WCRA acquired the car for preservation. It has been restored by a team of Canada Post volunteers and now represents a typical working mail car. No. 3704 was part of a group of 10 cars rebuilt from standard Baggage mail cars in the 3600 series.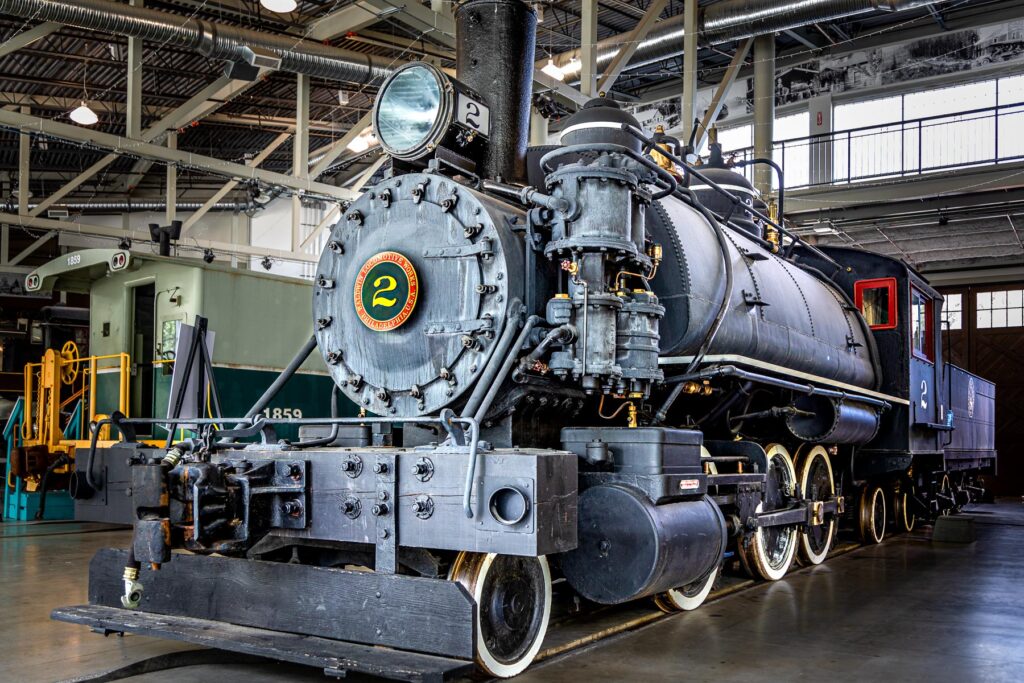 Pacific Great Eastern 2-6-2ST
Built by Baldwin Locomotive Works in Philadelphia, PA., in February 1910, this locomotive is a 'Prairie' type weighing over 90 tons in working trim and delivering about 22,000 lbs of tractive effort with a boiler pressure of 185 lbs. The cylinders are 16" x 24" and the engine is equipped with Stephenson valve gear. The 'ST' denotes the unique Saddle Tank design for the water tank over the boiler.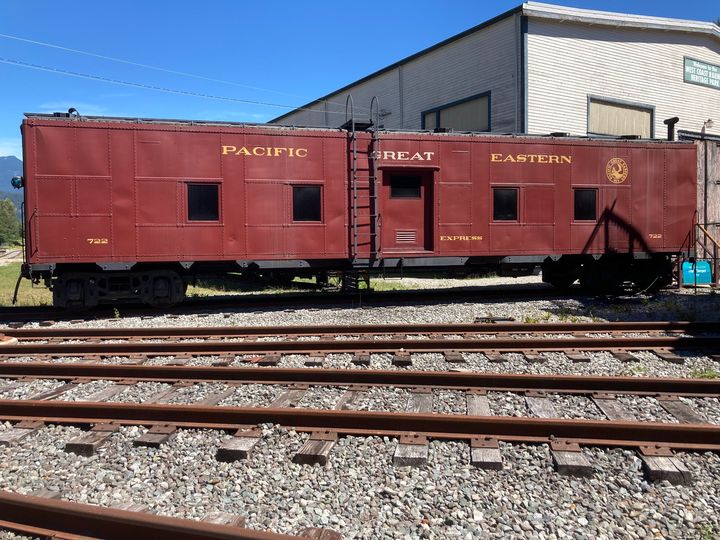 PGE Troop Sleeper & Bunk Car 722
These cars were built as standard US Army Troop sleepers by the Pullman Company in 1944, during World War II, to alleviate the shortage of sleeping cars used to transport troops in the US. The two cars in the RMBC collection saw service on the Alaska railroad during the latter days of WW II, then declared surplus in 1949. (See also Car #714 'Bud Butterworth'.)
They were built with 'Allied Full Cushion' high speed trucks, and were designed to be converted into baggage cars, thus ensuring a ready sale once the war was over.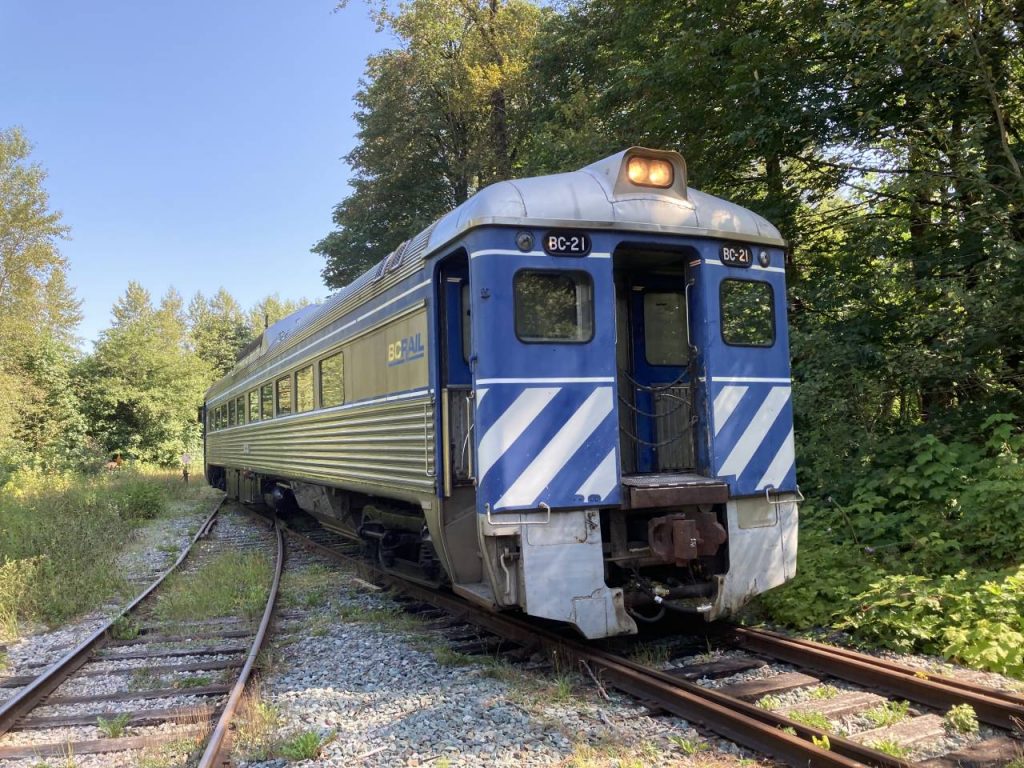 BC Rail Budd Diesel Rail Car BC-21
Check out our Rail Diesel cars! BC-21 is one of two operational units at our museum. BC-33 is the other. This unit is an RDC-1 configuration model.
One of the feature attractions at the Museum, BC-21 sees regular service throughout  operating days, running visitors from Squamish Station to the MP2 Shops and back. Come for a ride with us!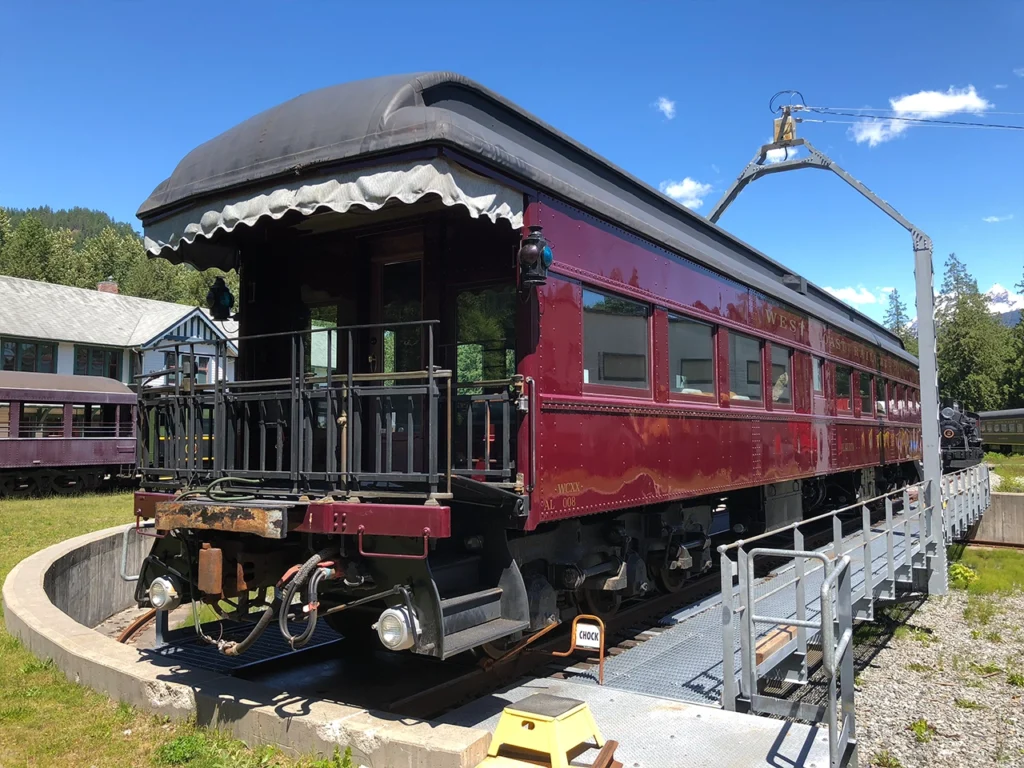 CPR No. 8 Alberta Business Car
The 'Alberta' was constructed in 1929 as a Business Car for the use of travelling railway executives and their staff, serving as an office, home and entertainment centre. National Steel car built the carbody of 'Alberta' and CPR completed the interior finishing at Angus Shops in Montreal. The 'Alberta' is a group of 10 cars built for divisional superintendents, each named after Canadian provinces.
When built in July of 1929, the 'Alberta' had many smaller rooms to accommodate the various needs of the executives. Similar to the 'British Columbia', this car has a varnished mahogany interior and many brass fittings. After retirement in 1970, modifications were done to make the car suitable for use as a restaurant. Bedroom partition walls were removed and the galley enlarged. In this current configuration, the car has a lounge with an open observation platform, a large dining area and galley. Fortunately the general ambience of the car's interior has been preserved.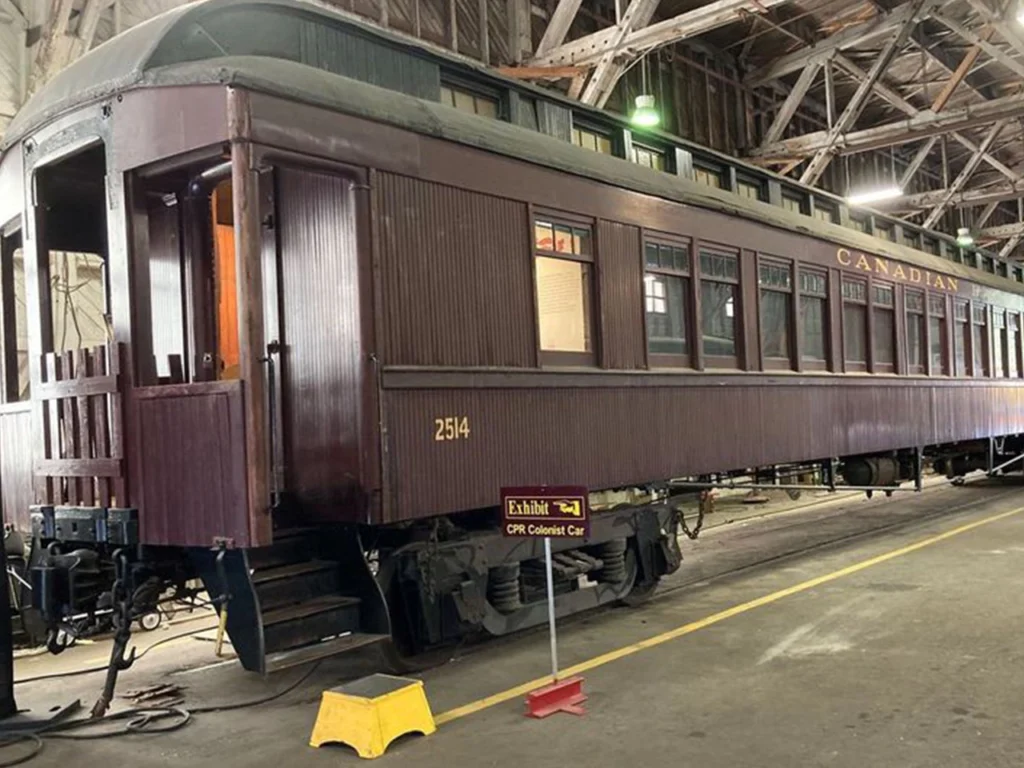 The Colonist car was built in 1905 and is one of a very few Colonist sleeper cars still around today. They were built to carry settlers, mostly European, to settle in Western Canada. The last mainline services these cars saw was carrying troops during WW2.
The Colonist cars had hard wooden slat seats for 50 passengers, but they would, at times, carry 100 passengers! There were coal stoves at each end of the car for heat and to allow passengers to cook meals. Passengers would have to bring their own food and cooking utensils. There were some pull down sleeping berths, but passengers had to supply their own bedding. There were washing facilities at each end of the car, one for women and the other for men.
The cars were very uncomfortable and were often overcrowded. People often had to sit on the floor or stand. The passengers would spend 4 to 5 days in the car travelling across Canada.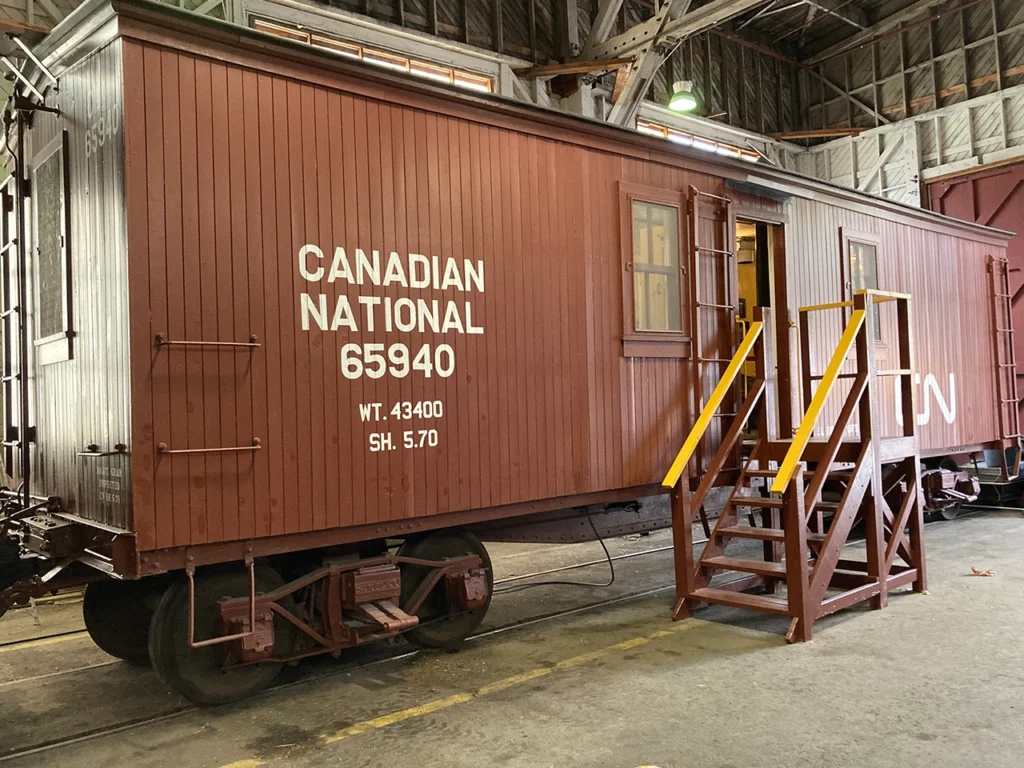 Canadian National 65940 Bunk Car
No. 65940 is designated the 'Shovel Operator's Bunk'. Along with another Bunk car, No. 71089, it formed the support cars for our Ohio Crane No. 2055. The car is much as it would have been in its Canadian National Railway working life. It provided a comfortable home and office for the Engineer while he was in charge of construction jobs out on the rail line.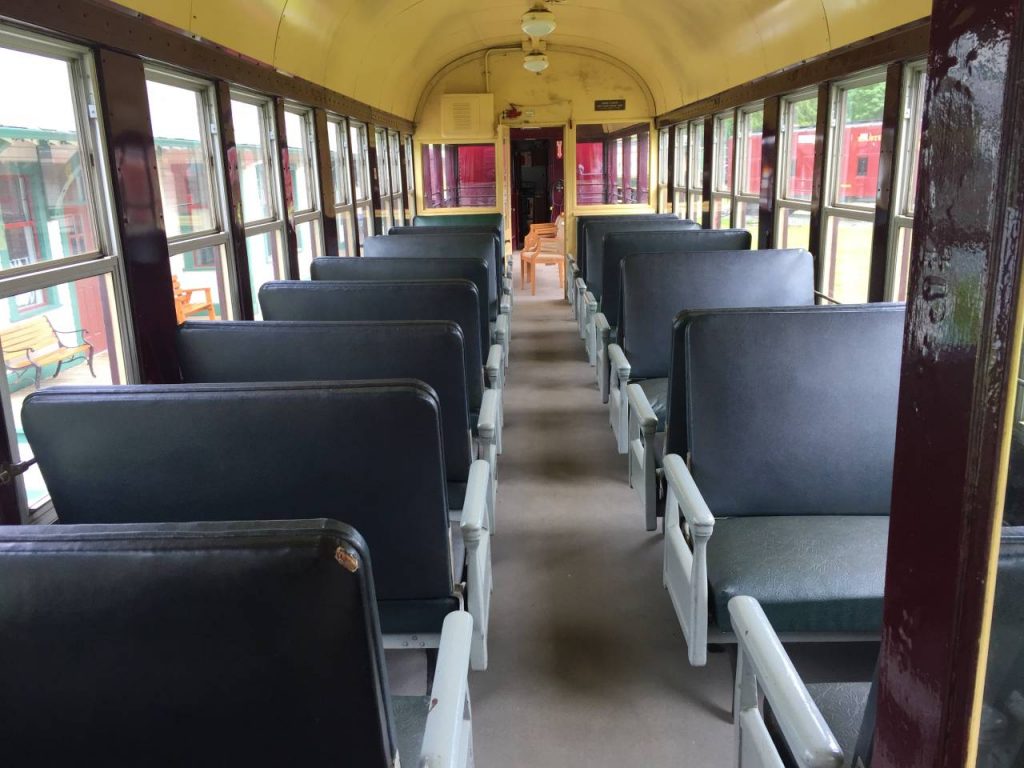 Henry Pickering Open Observation Car
The Henry Pickering has been riding the rail for over 100 years! Built in 1914 as part of the first order of all steel coaches for the Canadian Pacific Railway, this car was in continuous service until retired in 1955. It was rebuilt from coach No. 1422 to Open Observation car No. 598 in 1956 and used on the 'Mountaineer' train that ran from Vancouver to St. Paul, Minnesota. WCRA acquired the car in 1964. In 1974 the car was leased by the BC Government to be part of the Royal Hudson train. It was named Mt. Garibaldi and operated until the mid 1980's, and again in 2000 – 2001. Extensive restoration was completed in 2003. Renamed Henry Pickering, it has operated with the Rocky Mountaineer since 2004.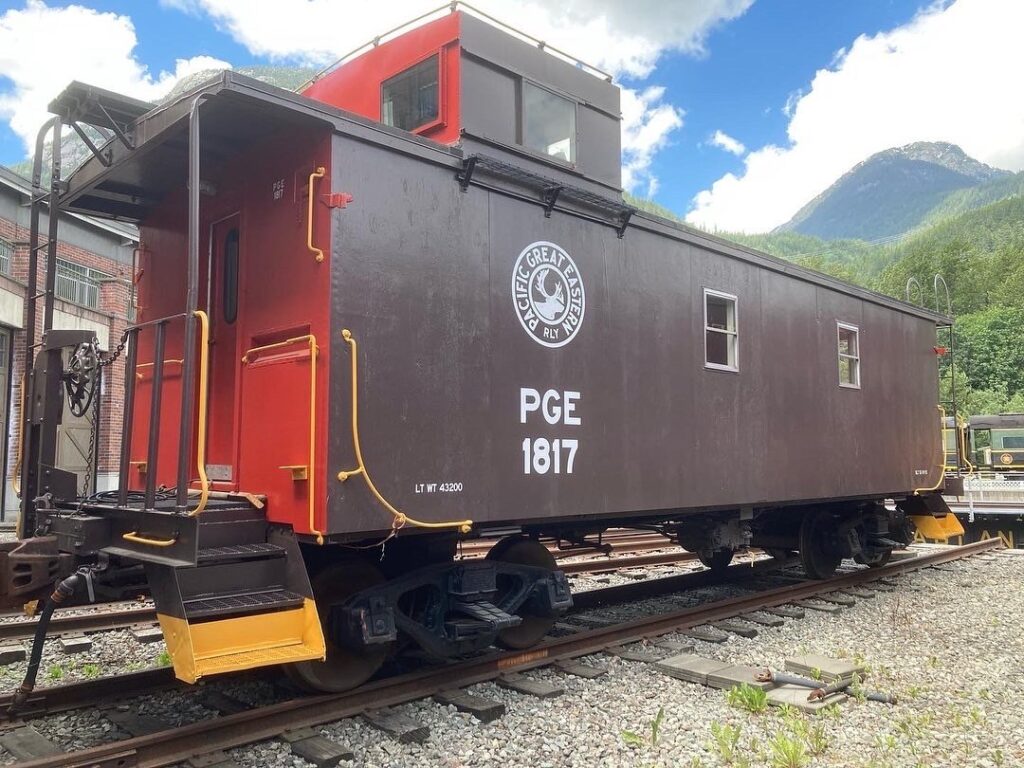 Pacific Great eastern Caboose 1817
In 1955, No. 1817 was rebuilt from PGE stock car No. 503 in the PGE car shop. Eventually, thirty cabooses were built, numbered from 1811 to 1840. In their conversion, they were stripped to the frame and rebuilt using conventional methods. They were sheathed inside and out using marine plywood. The cupolas were constructed of sheet metal and welded for extra strength. They were warm and comfortable, equipped with a standard caboose cook stove and 3 bunks for crew.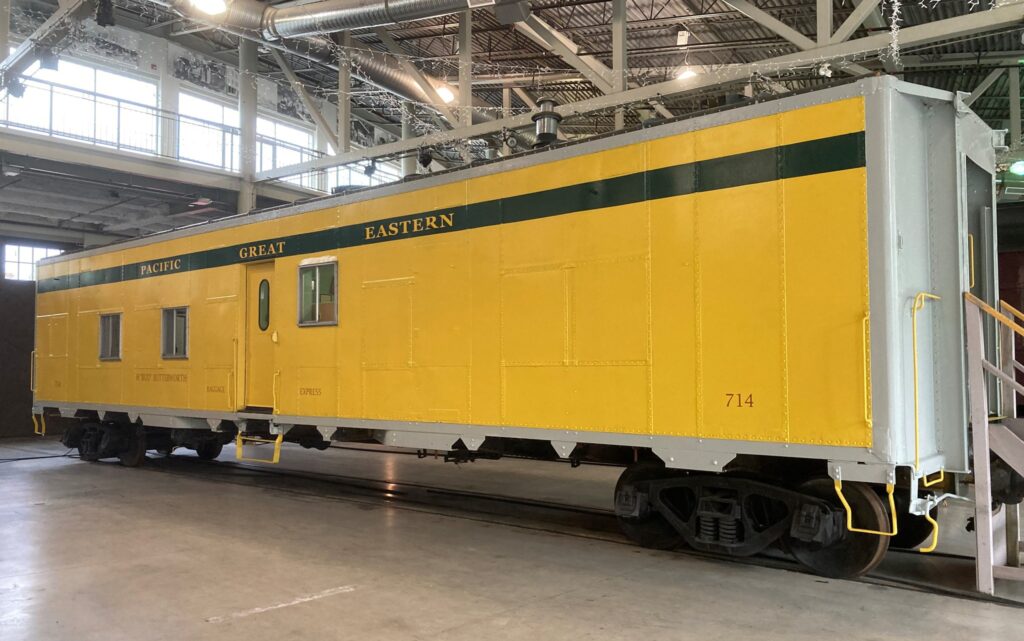 Pacific Great Eastern #714 Troop Sleeper 'Bud Butterworth'
H. "BUD" BUTTERWORTH
July 20, 2006, this car is dedicated in honour and loving memory of our Father, H. "Bud" Butterworth (1920-1985) by Brian and Carol.  Bud was a conductor on PGE/BCR. As a 37 year veteran, Bud's cheerful, cooperative attitude was appreciated by his co-workers and contributed a great deal to the success of the railway. Bud retired in 1982 but continued to be involved with railroading, becoming a founding member of B. C. Pioneers' Association and an active volunteer at the Railway Museum of BC.
See also PGE Troop Sleeper #722. A walk through this car shows a variety of historical artifacts, sleep bunks and cooking spaces.  
PGE acquired the cars in the 1950's and put them into work service. The #714 was numbered PGE #990114 as a snowplow crew bunk car. When the Railway name changed, it became BCOL #990114 and was subsequently donated to us in the 1990's. The Butterworth family paid for cosmetic work done in the late 1990s in memory of Bud.