Slide npe1 - book now





Take a train ride on the North Pole Express and meet Santa!
Book your tickets NOW to get your preferred dates.

Slide npe2 - faqs





Everything you need to know about the North Pole Express is here!
See our Frequently Asked Questions page.

Slide npe3 - tickets on sale now





North Pole Express tickets on sale NOW!
Get yours and meet Santa.

Railway Museum of British Columbia
Welcome aboard
the North Pole Express!
Come along on this exciting and immersive adventure to meet Santa Claus at the North Pole. Your journey begins at the Candyland Station where Hot Chocolate flows like a river and you are sure to bump into a few unique characters!
Your train ride is scheduled for approximately 50 minutes of fun, filled with cookies and songs, that will eventually make its way to the North Pole, after making a pit stop to pick up some of Santa's friends.
Once at the North Pole, kids of all ages will enjoy meeting many of Santa's elves and friends, not to mention meeting Santa and Mrs. Claus themselves! Make sure to take the time to enjoy all of Santa's favourite activities, especially his miniature train ride through his expansive and magical workshop. See you there on a Saturday or Sunday soon!
North Pole Express Schedule & Fares:
November 27, 28th
December 4, 5, 11, 12, 18 and 19th 2021Trains depart at 10:00 am, 12:00 pm, 2:00 pm, 4:00 pm.
6:00 pm Night Time Departure on Saturday only.
Wheelchair Accessibility info:
Our coaches are accessible, but we have limited wheelchair capacity available. There is only ONE dedicated Wheelchair Station per train departure! Please call us at 604-898-9336 if someone in your party needs wheelchair accessibility.
Coach Class Seats – $35
First Class Seats – $49 (includes collectors mug, station platform loading/unloading, tables on board)
Night Time Ride – $59 (includes collectors mug) Saturday 6:00 pm departures
Alberta Private Coach* – $1,500.00 (allows up to 15 friends and family)
*Limited Availability – call us at 604-898-9336 for more info
Vaccine Passport required to attend this event.
COVID 19 UPDATE September 13, 2021: The health and safety of our staff and our guests is the highest priority, and we will be operating with all appropriate Covid-19 health protocols in place. All our Staff & Volunteers are fully vaccinated.
Here at the Railway Museum of BC, you can see, hear, touch and experience the actual trains, locomotives and equipment that are part of British Columbia's railway history and heritage. This is railway equipment that helped build BC and Canada.
The North Pole express returns for 2021
We are excited to announce the return of our Christmas and Holiday Train Ride Adventure this year!
See the Royal Hudson 2860 while you're at the North Pole to visit Santa.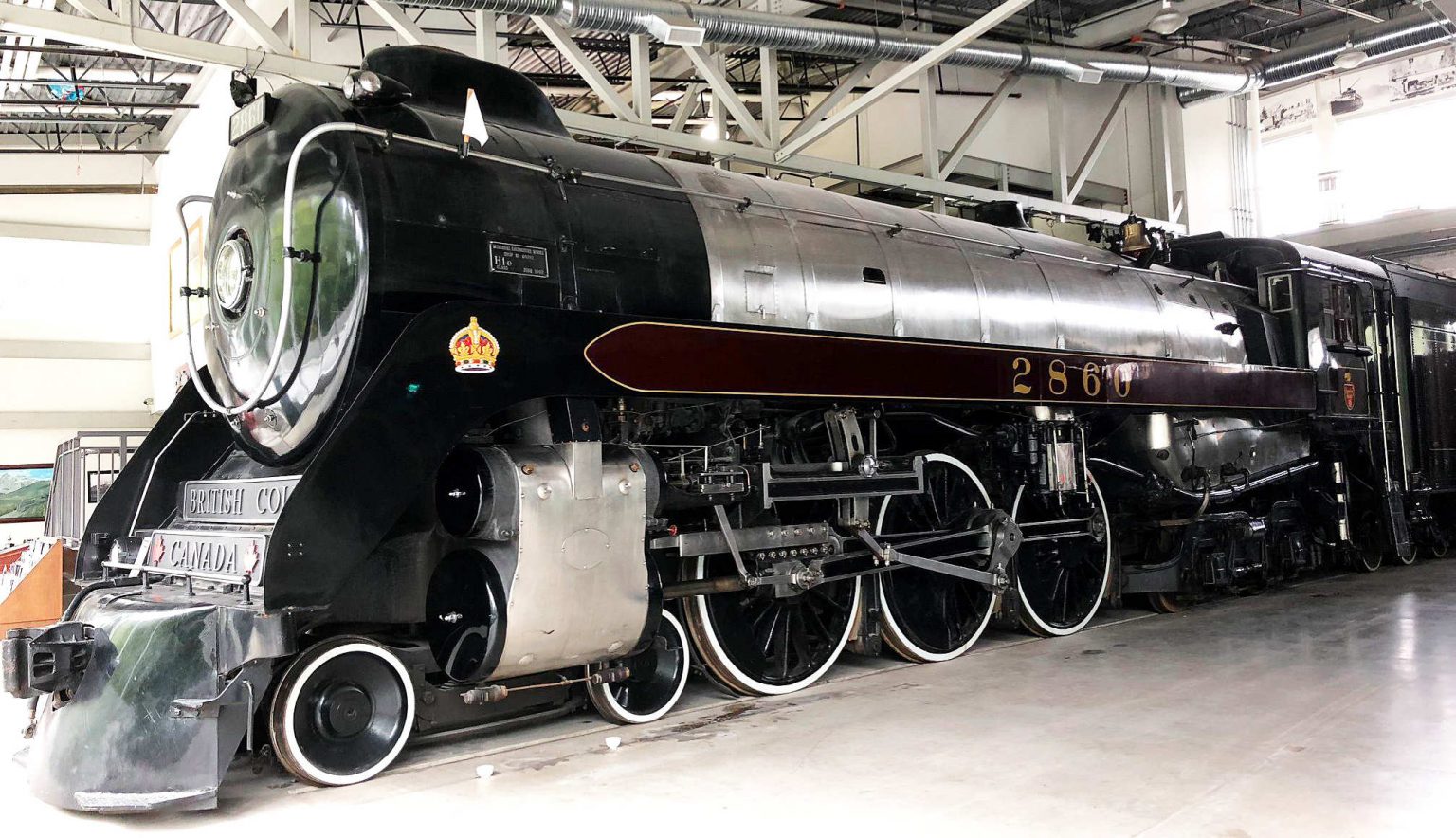 Canadian Pacific Railway Royal Hudson 2860
The Crown Jewel of our collection, 2860 is one of 65 'Hudson' type 4-6-4 steam locomotives built for the CPR by Montreal Locomotive Works (MLW).
This series of engines was numbered 2800 to 2864, and the first was delivered in 1929. Our engine 2860 was finished in June, 1940. 
See this magnificent locomotive inside the CN Roundhouse. Climb into the cab, ring the bell!
Why does the Hudson have the 'Royal' designation? Visit us to find out. Or check the Exhibits page for more detailed information.
What's happening at the Railway Museum for 2021
Train rides come in various sizes. All are kid and adult friendly!
Come with us to find Santa aboard the North Pole Express! Weekend departures Nov. 27 through Dec. 19. 
Ride a BIG train – it could be the BC Rail Budd Diesel Rail Car,  BC-21, or the Canadian Pacific Henry Pickering Observation Car No. 598.
Ride the ever-popular Mini-Rail. Try something different and take a Track Speeder ride! 
Watch for our historic operational locomotives,  CP F7A #4069, CN FP9A #6520 and PGE #561.
See our operating HO Model Train layout and historic Toy Trains of all scales in the Patricia Anne.  
Check out the 'old time' print shop with a vintage printing press in operation.
Visit the car Shop to check out the Post Office car and Colonist Sleeper Car.
Food and drinks are available, so be sure to pick up something from the Food Truck, and enjoy a picnic on the grounds.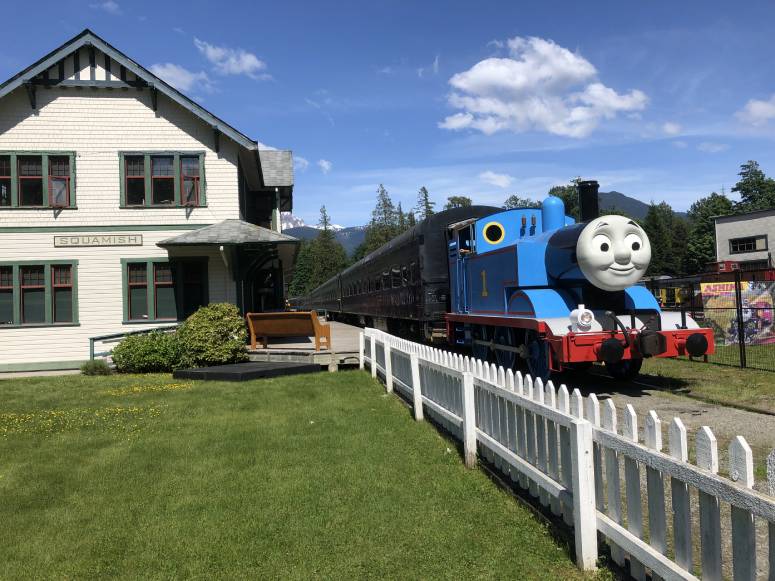 Returning in Spring of 2022 - A Day Out With Thomas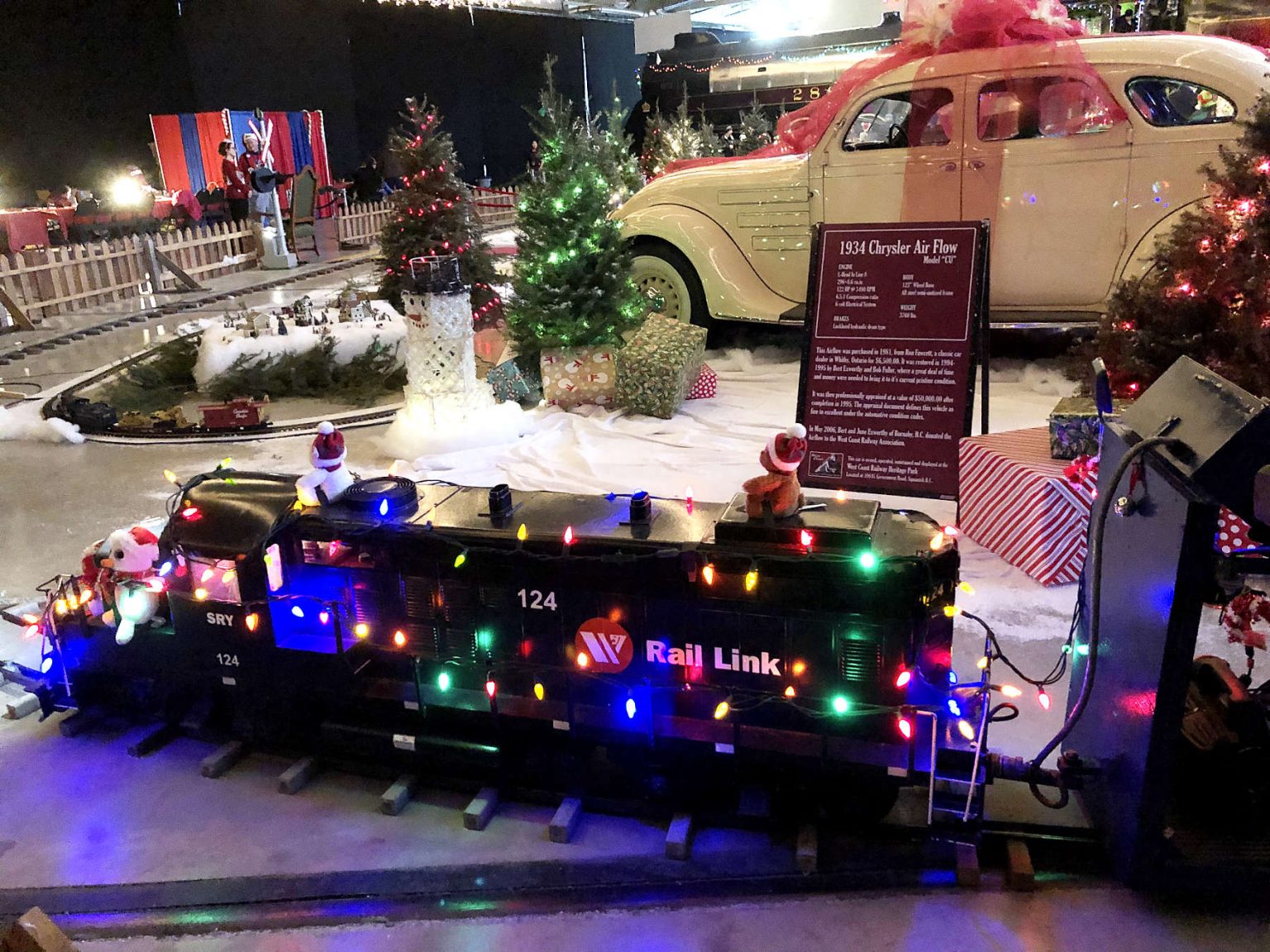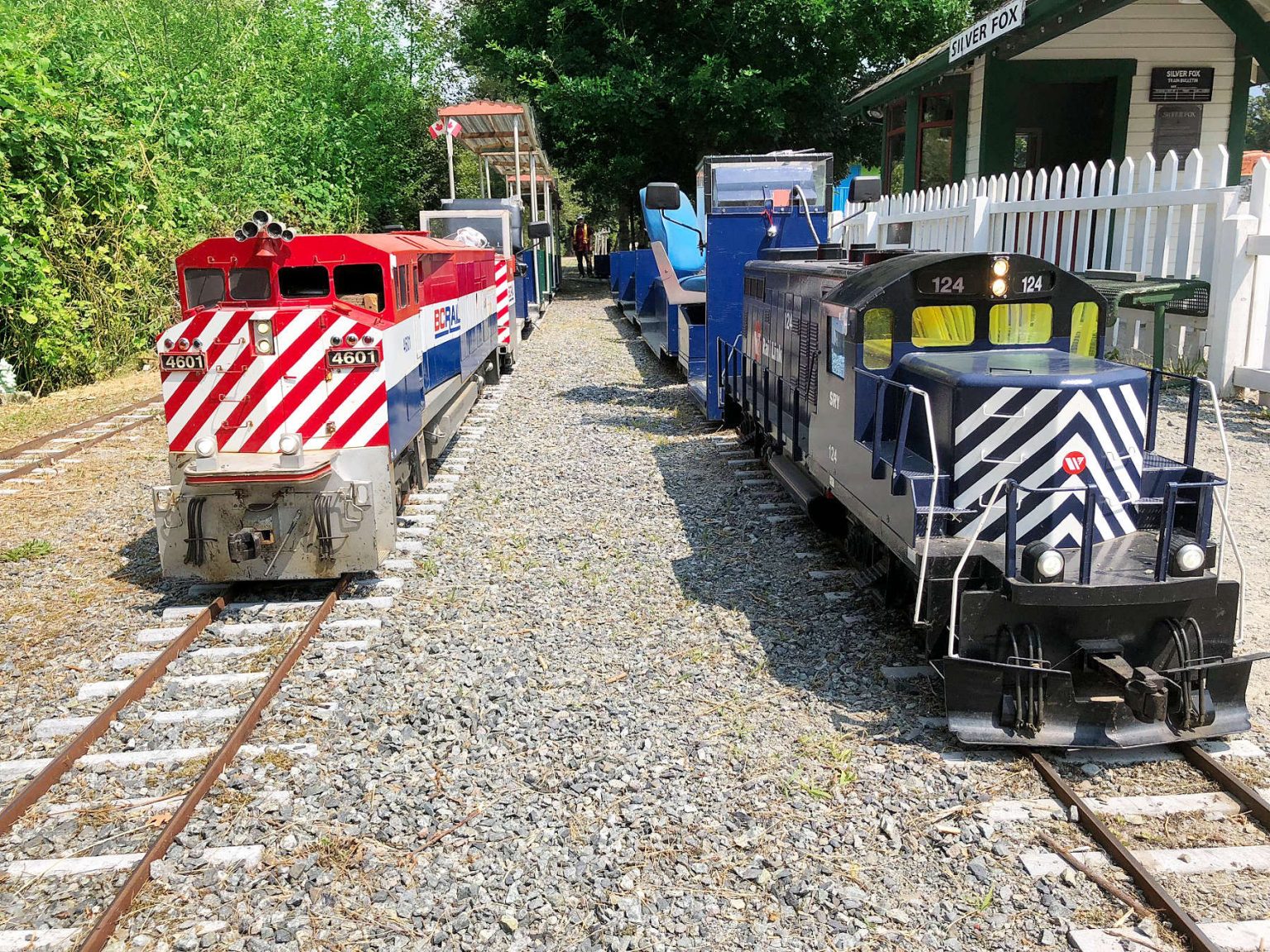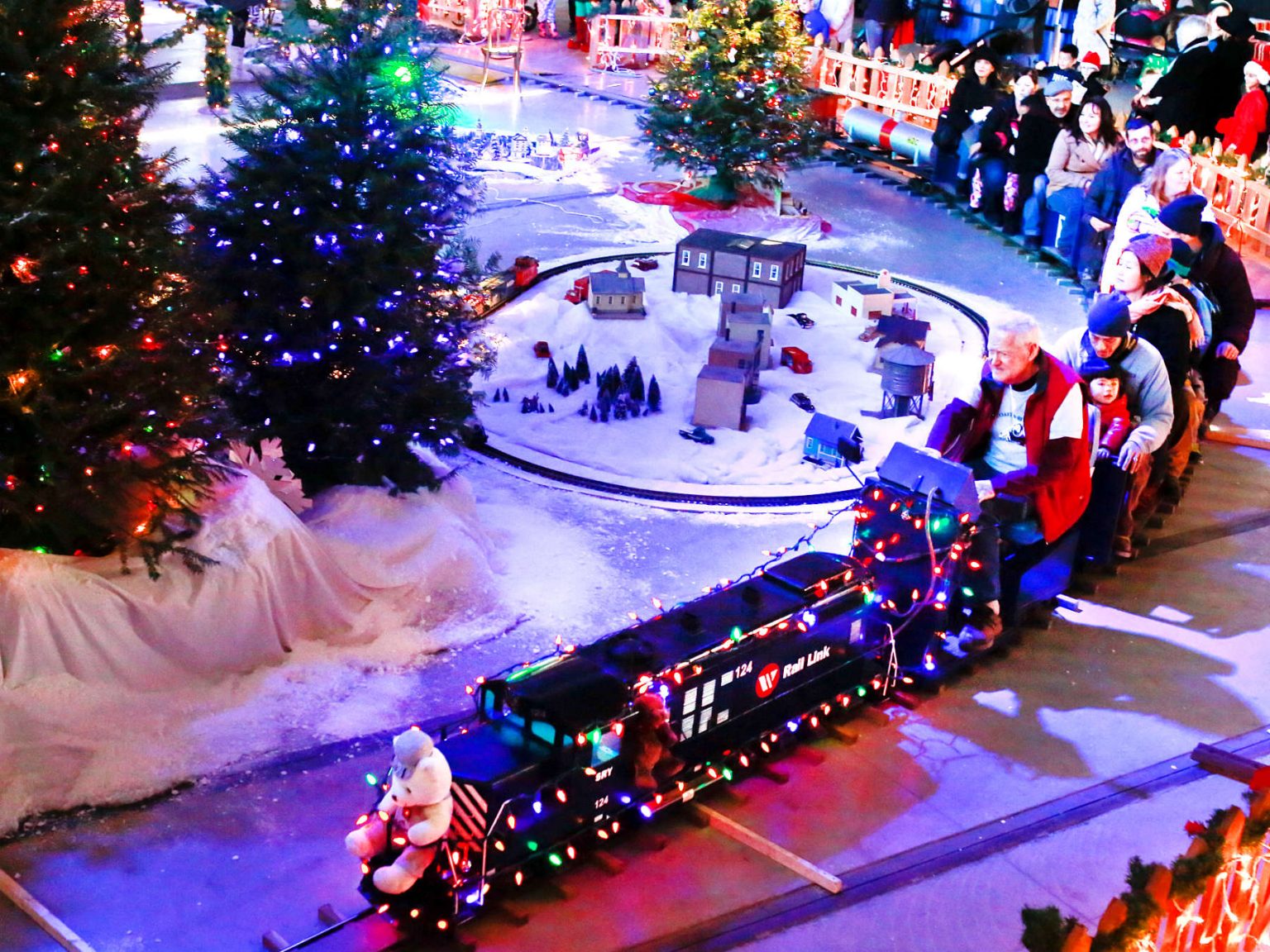 Ride our Holiday Mini-Rail Train
Our very popular Mini-rail train has arrived at the North Pole. Come for a ride on our Special Holiday Mini-rail train. 
One ride is included with your North Pole express Ticket. Meet Santa and Mrs. Clause along the way!
Remember, when you're riding the train, it's always fun to smile and wave at everyone along the way.